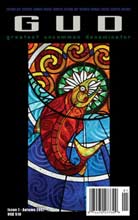 I'm trying to get my literary + genre magazine more exposure, and our latest idea is that we can inject ourselves into education, much the way microsoft does with its donations of hardware and software. In this case, we're offering "classroom sets" of PDFs of any issue to share with your class, print segments of, whatever. This is open to any English teacher at any level (though be aware that many of our pieces are "mature" material).
About the magazine: GUD (pronounced "good") is Greatest Uncommon Denominator, a print/pdf magazine with 200 pages of literary and genre fiction, poetry, and art. We feature fiction that ranges from 75 to 15,000 words. The hardcopy is 5"x8", slightly narrower than a mainstream paperback but solid in the hands, easy to read with one hand while drinking your coffee or munching your sandwich. Or perfect for curling up with in your favorite lounge chair, sipping tea. The PDF is roughly 3MB, an easy enough download for any cable modem, and not unreasonable on dial-up.
(
Issue descriptions--Issue 0 and Issue 1
Collapse
)
If you're interested, please email us at
classroom@gudmagazine.com
and tell us a little bit about the course you're considering us for.